It's beginning to look a lot like Christmas (and shopping for the perfect tunic)!
Lori Hirons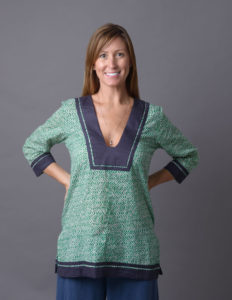 I'm one of those people that really deplores Christmas music in stores before Thanksgiving (let alone Halloween).  And yet, here we are in the beginning of October and I am seeing Christmas decorations sprouting up everywhere on my little rock.  Some of it is a function of practicality.  We get things shipped to us sooner than most because it takes longer than most to get it.  But a great deal of it is this rush to move into the holiday season quicker.  I confess I am a "Christmas-a-holic" (is that a thing?).  I LOVE to decorate my island home with a bit of my nostalgic decorations and those I've acquired since we've been on island.  As a retailer, I get it.  I started planning for the holidays in June.  YES JUNE!  It takes time to prepare marketing and inventory and advertising and it doesn't just happen overnight.  But I digress….
One of the things that I am planning (and I might as well let the cat out of the bag since you're reading this) is weekly specials on some of our most popular items (and weekly specials on shipping!).  October 15th will be our kick off and we'll be featuring special pricing on our most popular item.  The Gwyneth tunic.  Fabulously detailed and created in stunning colors in both silk and cotton; it is the 'go to' garment for every woman of royalty or anyone who just wants an amazing top to grace the beach or the villa.  You will absolutely LOVE the selection and with this special pricing, you'll want more than one.
Now where did I put those palm tree Christmas lights……
Happy Monday!
Lori