Shiny New Penny
Lori Hirons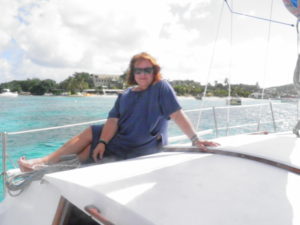 So, here we go!   I've been talking for some time about the new website.  Today is the day.  While my crowdfunding campaign goes on, we are launching today so you can begin to see the new line items, SHOP and start giving me feedback.  The website is not 100% yet but we're getting there.  For starters, you should know, that right now we only take PayPal.  But you know, if you have a PayPal account, it is one of the simplest shopping methods in the WORLD.  We'll add more options as we go but you've got that one.  Second, there are a few items that are limited editions.  Like that Contessa in blue and white polka dot?  Better hop on that because it will be gone soon!  Ditto on the Helena in that same fabric.  I will have some staple colors and patterns but I will also have limited edition fabrics that I love and fit in well with the line but buy them on a limited supply.  It makes my unique designs and fabrics even more special for you.  I'm also going to start adding some home goods.  When you think of Island Contessa, can't you picture luxurious pillows and table linens?  Everything to make your home complete.  I will also be adding some wonderful craftsmen from my home island.  The artisans on St. Croix are unbelievable.  Every time someone comes here, they are dazzled by what the people of my little island produce.  So we'll showcase some of them; provide you the link to their stores or sell some of their items here.  The blogs (like this one) will be easy to find on the site.  I will continue to share them on Facebook and Twitter but if you don't do either of those social media sites; that's ok.  You can always come here.  I want you to shop here but I also want to create a community where all Contessas can come and share ideas and look for ideas different from their own.
Even though this is 'technically' an ecommerce site, I don't want you to think of it like that.  I want you to think that I'm welcoming you to my home where you get to try on fabulous clothes, sip a glass of chilled wine and have a good laugh with a girlfriend.
So follow your dream and let the adventure begin!
Welcome to Island Contessa!
Lori