Island Living
Lori Hirons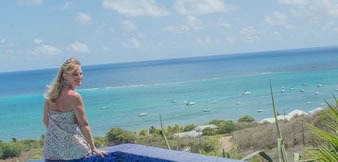 Good mahnin'!  It's the frequent chime of island voices when you pass them whether its in the grocery store or the post office or on the street.  It's usually repeated several times as a friendly gesture and depending upon the good mood of the speaker.  When my husband and I first moved to our little rock, I tried to explain to people that it was like living in a small town in "Anywhere, America" because eventually you do meet and get to know most people.  From our perspective (growing up in the Midwest) that wasn't a bad thing.  Celebrating small town island life is also a wonderful experience as an entrepreneur/small business owner.  Island Contessa is carried in small boutiques on St. Croix and I'm lucky to have super word of mouth and wonderful women who wear and look great in my designs.  As we've added lifestyle designs to the mix, some of my repurposed pieces are showing up in some FABULOUS homes.  And, of course, if you've read any of my writings from my poetry to my book series, The King of Cool, you know that my love of all things St. Croix is embedded into my writing.  Crucians have frequently spoken to me about the books and given me ideas and locations or people to include.  Its their way of showing love and, ultimately pride in one of their own.  And that's what I am.  How has where you live affected your work and your personal life?  I'll bet more than you realize.  Let's all be grateful for our home towns (or islands) and acknowledge that impact on our lives.
Blessed day to you all,
Lori
P.S. In case you're wondering, that WONDERFUL model is wearing our St. Croix sarong (appropriately named, don't you think?) and its available to you at www.islandcontessa.com and ready for the perfect Christmas gift!​​​