The holidays are here!
Lori Hirons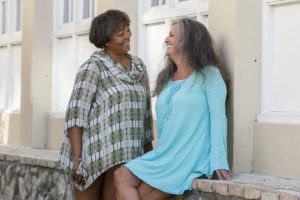 It is so hard to believe that December is in a week! 2018 will be gone before you can blink.  I love this time of year.  Not because of the gift giving (although that is certainly nice).  I love this time of year because people are given a free pass to tell each other how much they mean to them.  Some of that is shown through gift giving but often it can be a hug, a card or just a "you mean something to me" comment.  I'm lucky.  I've got some WONDERFUL friends and family that make me feel its the holidays all year long.  Like those ladies in that picture.  Some of my besties and just really good peeps.  They're great ambassadors for Island Contessa because they rock my clothes AND they support my mission.
If you're on my subscriber list; you know about the special offer Island Contessa has for you that benefit the Women's Coalition.  If you're not–it's not too late!  Sign up now and you'll get a bonus as well as helping the Women's Coalition.  Gifting can be fun but it can also be meaningful.  Isn't it wonderful when they both come together?
Happy holidays!
Lori