Christmas is almost here!
Lori Hirons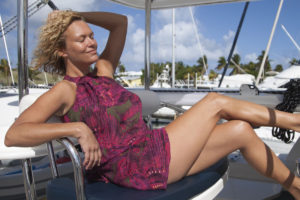 Ok well not RIGHT here but 41 days away!  It's always hard when you live in perpetual summer to come to grips with winter holidays—Thanksgiving, Christmas, New Year's; but I'll struggle on for all of you! 🙂
For those of you that have followed my posts, you know that one of the causes near and dear to me is ending domestic violence.  I have worked with this issue everywhere I have lived and unfortunately it continues to plague our society.  So I do what I can where I can.  I have always said that with Island Contessa, I want you to feel good and look good about buying with us.  So we're doing something special this holiday season.  For every $500 you spend we will contribute $50 to the Women's Coalition of St. Croix and we'll give you back $50 as our thank you.  This will apply to all clothing and home goods. Your contribution will help victims of domestic violence in very tangible ways–counseling; housing; supplies; medical, etc.  Everything these individuals need to survive, heal and thrive.  I can't think of a better Christmas gift than that.  Can you?
So picture yourself, like my friend, Sarah, in one of my lovely frocks, relaxing on a boat or a beach or even in snow!  Then remember, you not only get to enjoy these beautiful garments but you helped save someone's life!
Be kind,
The Contessa