Happy Independence Day (wherever you live)!
Lori Hirons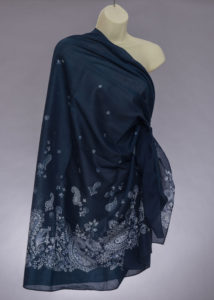 I'm a proud American who just happens to live on an island!  It's a US territory but still, an island. Right now my husband and I are traveling in the states so, in addition to seeing family and friends, we're here for our country's birthday.  I packed this lovely little gem, Island Beauty because a) its versatile and b) it reminds me of our country's colors.  I don't often think about patriotism when I'm designing my line but I have noticed that I do have some red, white and blue woven into a number of items.  It's probably my subconscious at work.    Whatever your patriotic sentiments and wherever you live, you can rock a little piece of it with one of these beautiful pieces.  The Island Beauty scarf is also available in a white silk (and let's be honest, who doesn't look good in white silk!).  So, today when I'm celebrating with my fellow Americans this remarkable experiment in democracy, I'll be thinking of and missing my home on a little island in the middle of the big, blue Caribbean Sea!
Happy Independence Day!
Lori