Island Royalty—women of inspiration!
Lori Hirons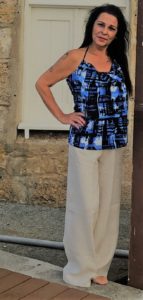 One of the great things about this business (and trust me there are many) is the opportunity to meet lots of amazing women. Lots and lots of amazing women. So, it got me thinking, why not profile some of these amazing women. And with that thought, this was born—Women of Inspiration. On this blog, you will meet women from time to time who embody the spirit of Island Contessa—bold, beautiful, confident, elegant and blissfully happy. They've made a difference in their lives, their communities or their own heart.
Our first woman to profile is Anna Casador. Anna and I know each other from my favorite place in the world, St. Croix. Her story crosses several story lines but rather than me tell it, I'll let her. Anna is Eric's mama and that's where her story begins.
"Hello, I am the mother of an amazing young man, Eric Medeiros. I'm Anna, and this is my story. Charity work has always given me a sense of achievement and fulfillment in my life journey. All along I always involved my children, I felt it was important for them to learn from an early age to be grateful and to give back to their community. Eric was always by my side, no matter what we were helping with– selling cupcakes to help the orphanage, making sandwiches for the mission on Sundays; selling pasta dinners to support the animal shelter; whatever needed to get done. The most kind, loving and generous person you could meet. Always by my side. Always willing to give a helping hand. Always smiling. The thought of someone being hungry or without clothing just devastated him. Together we volunteered and helped in our community– raising funds or whatever was needed to help those in need.
Then one day, it all stopped, my world came crushing down around me. I lost my Eric in a car accident. Eric suffered a traumatic brain injury. Letting him go was the hardest, most painful thing ever. I fell into a million pieces. Nobody and nothing could ever put those pieces back together. And, so it was for a very long time.
No parent should ever lose a child. It's not the correct order of things.
My cousin Fatima came by and insisted I get dressed, put some shoes on and that she was taking me out. She had something very important to discuss with me. But she only got me as far as the kitchen table for tea. Then she hit me with it "so now what are you going to do with yourself?" This was about me, not her. I was angry that she tricked me. Those days I was always angry, very angry. Angry that it happened. Angry that Eric was no longer here with me. Angry at the world. She left me with "what would Eric tell you to do now? Maybe you could do your charity work again. You and Eric loved doing that together. It's a great memory and something that might help you deal with all of this." I told her I would figure it out.
I did.
She opened my eyes. I thought about the things Eric and I did together– working together at my café; making sandwiches to take to the homeless shelter; bake sales to raise money for kids backpacks. As I sat there thinking about all of it, I could see him smiling. I could hear his voice, "come on ma, you still have work to do". And so, I did.
It started small, and out of pocket but I started to feel a little lighter, like I had a purpose again. I would collect food items and bring to the local food pantry. Clothing drives here and there and deliver to our local shelter. I knew this was it, what I needed to do for Eric. I always taught him to never give up. If you fall; get back up and keep going. I always wanted to be a good example for my children and I still had to be a mom.
Most important to me, we are remembering and honoring Eric, and keeping his memory alive.
Along the way, I found another side of myself. I started working out and making myself physically stronger and healthier. I started losing weight. I started shedding my shell. I entered my very first pageant in October 2016, and only did it because it's a charity based pageant and you could have a donation box for your charity. I did well, received the Spirit Award from the judges. I knew then, I needed to make my circle bigger, everyone I met there was amazing and supportive. The pageant programs have been an amazing part of my journey and to help build and take my foundation to the next level. It's a great way to build new friendships, promote your charity work and passions and learn all about the pageant organization platforms.
I never imagined after this tragedy, I could ever smile again, but I feel Eric's spirit always nudging me. So as a family we have healed a little and smiled a bit more, continuing what we did when Eric was here with us. I know that it would make him so happy. You are never the same. Your heart is always missing that piece; but if you can find something or anything, that might give you a little more strength and purpose, grab it and run. That's what we did, we had to turn this tragedy into something positive, the smiles on the faces we help, put smiles on our faces. Do it in memory of a loved one, you will feel that hug from heaven and that will carry you one more day. One day at a time, one step at a time. You will get better at carrying it. All while helping to put a smile on someone else's face."
If you would like to continue to support Anna in her efforts to make the world a bit better; please is the information on what the Eric Medeiros Memorial fund supports. You can find out more about the fund at https://www.facebook.com/EricMedeirosMemorialFoundation/
Eric Medeiros Memorial Foundation: Civic and Community – Aid those less fortunate with basic needs like food, clothing, emergency care, school supplies, job search coaching, animal welfare causes. We also support local agencies like CCAP food pantry, Brain Injury Association of RI and MAE Organization for the Homeless.
Ongoing support to our neighbors at the Queen Louise Home for Children and the Elderly, and animal rescue efforts, on the beautiful island of St Croix, US Virgin Islands.
Education – Provide assistance so that children and youth achieve success and increase high school graduation.
Economic Opportunity – Provide services related to economic opportunity for economically disadvantaged individuals within communities including financial literacy, housing assistance, job training and
nutritional assistance.
We achieve this by having monthly and ongoing fundraising events, great volunteers, donors and support from community businesses, family, friends. Ongoing food and clothing drives.
And of course, our Annual Fundraising Gala is an event that everyone looks forward to, which will include great food, music, raffles, silent and live auctions and so much more.
Finally, Anna is wearing all Island Contessa garments—The limited edition halter is from last year's collection. The palazzo pants and the tunic are from this year's collection and are available on the website.